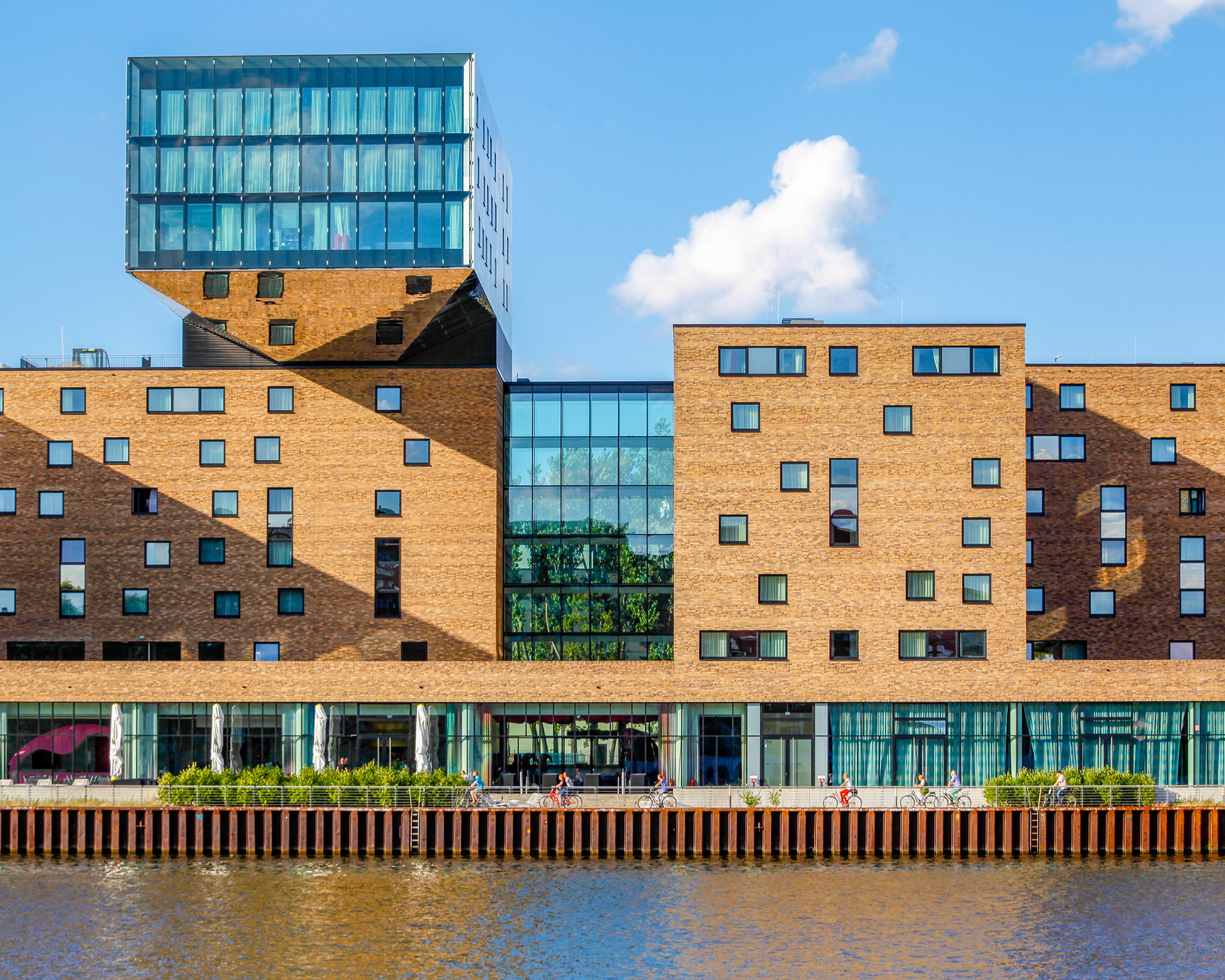 Aligning with the existing storehouses the four-star "nhow Berlin" Music Hotel by the Spanish nh-group is located between the River Spree to the south and Stralauer Allee to the north containing 310 rooms and two restaurants, a convention center including a ballroom, and offering a spa area and an underground car park.
The structure of the building and the façade design refer to the situation of the building. A huge cantilevered cube cites the motif of a crane cabin, whereas the façade's surface mingles into the ubiquitous brown stone materiality at the formerly important city harbor of Osthafen.
Divided into two blocks the volume accommodates seven floors forming each forming an open U-shape onto the water and connected via glass interstice.
The western block is topped by four additional floors in a separate volume overpeering the banks. Here the exclusive nhow suite gives access to the roof terrace and has an optional connection to an in-house sound studio, cantilevered on about seventy feet and hovering eighty feet above the water.
On street level a floor-to-ceiling glass band with large-size panels distinguishes the hotel from the neighboring old storehouses. The façade zone above is formed by perforated brick coat with irregularly arranged square windows.
The chosen bricks vary in color as well as in their line-up adding a vivid optical brigo to the massive volume by an irregular surface. The fitted top levels (7th to 10th floor) wear a highly reflective aluminum cladding and allow splendid views to the southwest through an all-glass double façade.
Client: NDC Nippon Development Corporation GmbH.
Hotel Management: nh-group
Architect: Sergei, Tchoban, NPS Tchoban Voss Architekten
Interior Design: Karim Rashid